Table linen - fine clothing for the table
Tablecloths for tables have been around in many countries for centuries. Experience the joy of decorating tablecloths, serviettes etc. using individual creativity and to make a good impression. Until recently, tablecloths were found in the silverware and pageantry services and seen as the symbol of representative status.
Tablecloth is, just like table manners, an integral part of the Central European culture. It was an indispensable part of a bride's dowry and was part of the foundation of every household. Often lovingly embroidered by the mother or with magnificently woven patterns remitted the table linen on stand to fit the lifestyle of the family.
The history of table linen
Even at the traditional banquets, they were placed next to the bowls, and gold cutleries were first without napkins and tablecloths. Greek miniatures, frescoes and paintings show the time that tableware equipment were invented.
In the Middle Ages, table manners were a little rustic. Table towels were also hardly found at the court. In the late Middle Ages, cloths for wiping the hands were commonly found in dining rooms, which can be regarded as a forerunner of napkins in Central Europe. By 1200, there are pictures showing the very first table linen. The simple smooth cloth covered the table and was supplemented by a second, reaching down to the floor that went round and which was used to protect clothing and used as a napkin by everyone.
In the Renaissance times, tablecloths were brought in from Italy and used throughout Europe. The refined table manners of the farms were soon copied by the emerging middle class and had become generally established in the 19th century.
Washable tablecloths from the jubelis® Collection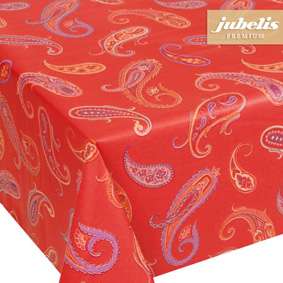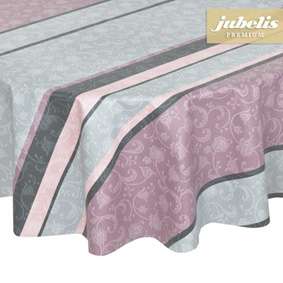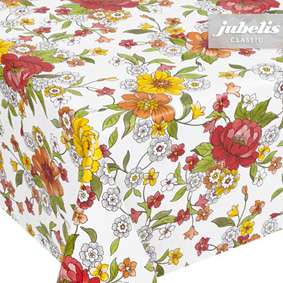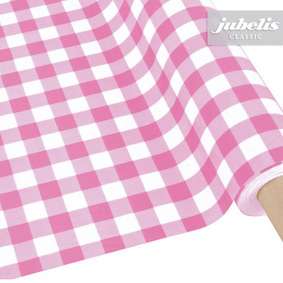 Small table, your deck ...
Enjoy a properly set table today. Make a festive table with heavy linen tablecloths, precious napkins, table ribbons and place mats on very special occasions as well as the simply and pretty daily breakfast table for dishes matching placemats and the coffee table with tablecloth and Mitteldecke or the garden table with practical oilcloth are an expression of culture and enrich everyday life.
Descriptions for washable tablecloths:
Easy-care tablecloths from oilcloth
Oilcloth and coated cotton as a table decoration and protection are experiencing a renaissance in the context of the vintage fashion, but never lost their importance in daily use. Washable linen is used in many areas:
Catering - food service and hotel linen
Recreational facilities - cafeterias and outdoor catering
Children and care facilities
Event decorator caterers
Decoration eg theatre and stage
The colourful or discreet table linen is practical to use, pleasing to the eye and is easy to clean. Families with children or gardeners will especially appreciate it. A patch is not a disaster that disrupts the entire package, but easily eliminated. Developed in the 19th century, the oilcloth or tablecloth has lost none of its appeal to this day.
Tablecloths, table runners, napkins, blankets etc. should be chosen to suit the occasion. Stains can be unsightly. Table linen, oilcloth, foil or coated cotton is stain resistant, easy to clean and can be found in many designs.
Customers searching for oilcloth can find them under these categories:
Oilcloth
Wax ceiling
Oilcloth table coverings
Oilcloth by the metre
Oilcloth Made to Measure
Oilcloth ceiling
Wax tablecloths
Oilcloth tablecloths
Wax tablecloth
Wax fabric sold by the metre
Oilcloth fabrics
Oilcloth rolls