Washable tablecloths in residential and commercial areas
You are spoiled for choice. This also applies to the selection of table decorations. Today tablecloths should be practical and easy to maintain, in residential homes as well as in companies or associations. In any case, the appearance plays a major role. A tasteful tablecloth adorns each room and all events, a naked little table looks inviting. When it comes to choosing the right one, you can fall back on a variety of materials, surfaces, colours and shapes for your planned celebration.
Application areas for washable tablecloths:
In households with children
In an everyday home itself, a coated tablecloth is a great option for the kitchen and dining table. If there are children in the house, a washable oilcloth is particularly expedient. This is also true for kids' Facilities where table support is particularly easy to care for. Schools, kindergarten or after school care - Wax tablecloths facilitate the support staff who are working around the clock.
Not only at meal times, but also the common crafts, painting or crafts with the kids can stain the tablecloth. A ketchup stain or poured juice is quickly wiped away without leaving any marks. The heavy, hard-wearing material protects the tabletop. If it's painted on, the leftovers from the glue or crayons can easily be removed without leaving any residue.
For any type of event that involves children in kindergartens and schools, the coated tablecloths or sheets are indispensable. A piece of chocolate smudges the cloth, but this is no problem to wash off. Parents and educators are advised not to stress as they can easily remove the stain and carry on with their party.
Washable tablecloths from the jubelis® Collection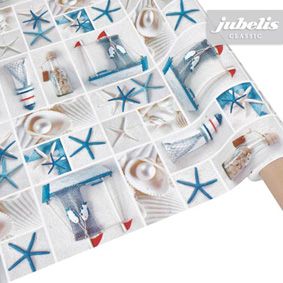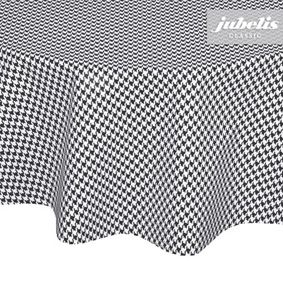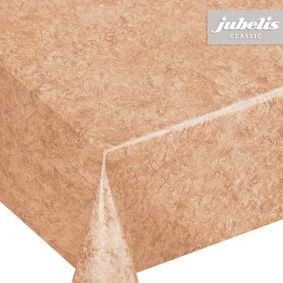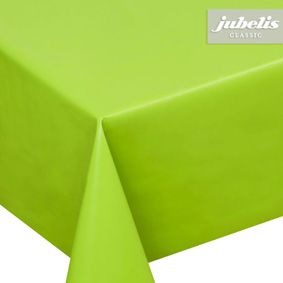 Practical table linen for nursing homes
Coated tablecloths are also suitable for single and elderly households. The edge of a hastily parked coffee mug must not cause trouble, it will remain on the stain protected surface and does not penetrate into the fabric. So the coffee stain can be easily eliminated.
Tablecloths and oil cloths are also ideal for various care facilities. In nursing homes, retirement homes and rehabilitation centres, and hospitals, you will find coated fabrics that are used often, such as in the cafeteria or in living spaces.
For Gastronomy and Hotel
In cafes, restaurants and hotels, there are easy-care linen or PVC coated cotton for indoor and outdoor use. Modern coated tablecloths are made of a high quality washable mixture of cotton or linen with stain-resist coating. They look elegant and complement any table on a terrace, in a bistro or at an event.
Wipeable tablecloths and oil cloth are available in many colours and are light-resistant. To match the colour of the host space, they create a unified image and radiate cosiness. In this environment, the guest feels at ease when he's enjoying food and drink.
The variety of coated table linen includes rolled out various clothing sizes and shapes. So you as a customer can order in individual dimensions. For you as a restaurateur, hotelier or organisers offer further advantages. You save on laundry costs. Many stains can be removed immediately with a damp cloth, and the tablecloths have to be changed much less frequently. This saves you money and helps the environment.
Washable tablecloths are especially handy in leisure areas
Also leisure facilities will benefit from the easy-to-care and washable tablecloths. Leisure parks, swimming pools, and event and party decorators can use the reusable tablecloths from the roll for outdoors, and in any weather condition. While camping, the washable table coverings are also handy for your equipment.
jubelis® offers the best matching table linens for every application. The oilcloth Classic is durable with a non-woven back and on top of that it is particularly inexpensive. For special occasions, as well as in the catering area, the thicker premium oilcloth fixed fabric and surface is recommended.