Advice on Tablecloth Sizing
A matching tablecloth is the only way to perfectly create a beautifully set table. However, not all cloths are suitable for all types of table. The size of the table, for example, plays an important role. The whole thing will only come together as a great ensemble when the width and length of oilcloth or cotton tablecloth harmonize well with the dimensions of the dining table.
How to determine the correct dimensions
To determine the proper dimensions of the tablecloth, the table should first be carefully measured. The recommended overhang on each side is usually about 20 to 30 centimetres. However, this is, of course, primarily a matter of taste.
Experience has shown that an overhang which is too short, looks slightly odd or simply 'wrong' and, therefore, instantly interferes with the visual impact of a prettily laid table. An overhang that is too long may also prove to be impractical. While long tablecloths can sometimes be nice to look at, a tablecloth that almost reaches to the ground or even the chair seats, will make life unnecessarily difficult for guests and possibly look rather awkward.
Standard sizes of tables and tablecloths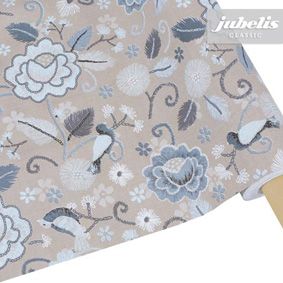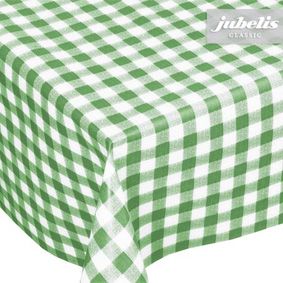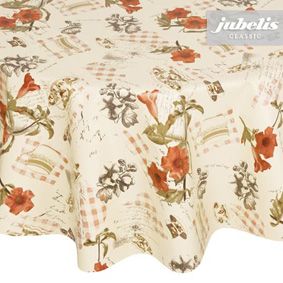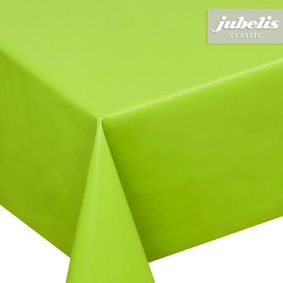 When buying a tablecloth, think about the material from which it is made when choosing the right size, as some fabrics are prone to shrinking during the first wash. A good rule of thumb is to plan for shrinkage of about three per cent after the first wash.
Washable table linen of oilcloth or coated cotton can make life easier. If it turns out that you have overestimated the size needed for your table, adjusting the size of the overhang is very easy as the cloth can easily cut with a pair of scissors. Film tablecloths can also be adjusted with this method.
Washable tablecloths in different sizes and shapes
Standard dimensions for rectangular tables are sizes of 80 by 80 centimetres, 100 by 100 centimeters, 120 by 140 centimetres and a width of 140 centimetres, together with a duration of up to 3 metres. In the case of round tables, a diameter of 80, 100, 120, 140, 160 or even 180 centimetres is considered normal.
To calculate the matching size of a tablecloth, 40 to 60 centimetres should be added to the respective dimensions. A rectangular table with a width of 80 and a length of 100 centimetres, will, therefore, require a tablecloth which is at least 120 to 140 centimetres wide and 140 to 160 centimetres long.
Circular tables also need about 40 to 60 centimetres to be added to the table diameter to determine the right size for the tablecloth.
Oval tables are the most challenging shape for which to buy tablecloths. A customised service is often the only solution. Some vendors of table linen manufacture custom-fit tablecloths using a template. However, it is possible to make do with a rectangular cloth, accepting that the curves of the oval table will have a slightly longer overhang.
Can customize as needed - Table linen made to measure
If you cannot find a tablecloth with the right measurements in the trade, the perfect tablecloth can be specifically customised. While wax cloths are simply cut to the desired length, you will have to invest a little more for the manufacture of bespoke tablecloths.